I am sharing some past projects with all of you that I have never posted. I did not have this blog at the time I did all this.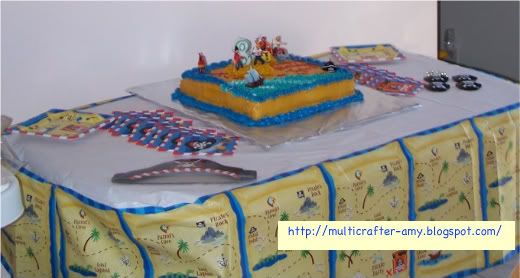 I always decorate the light above the table where I place the cake. Here are some ships I cut out from Paper Doll Dress up Cartridge. I just attach them to the streamers. I only owned about 4 cartridges at the time I did this party. You don't really have to do elaborate cuts to make a party special. Everyone was impressed. Since then I have made things a little fancier. I always use streamers and balloons. The boys just love them.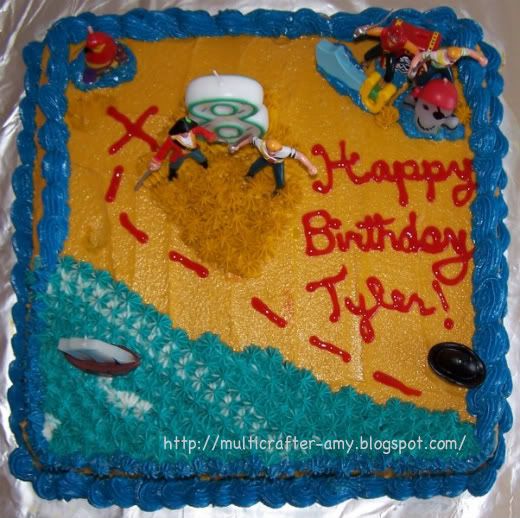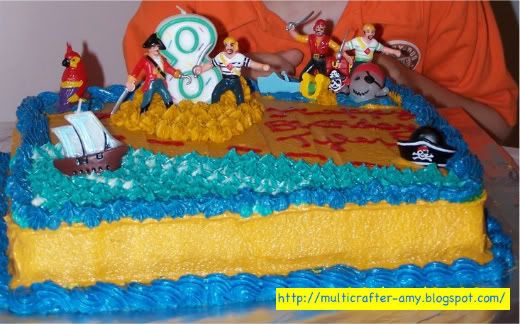 I made this cake and iced it with homemade butter cream Icing. Tyler loved the cake. The little pirates are little plastic guys I found at the party store where I also bought the candles that match all the plates and tablecloth. We had a fun time. We had a treasure hunt and bubbles was the treasure. All the kids got bubbles to enjoy once they found it. Each one was wrapped and labeled with all their names. I hid clues all over the yard. Hope you enjoy these pictures.

I made all these candies from candy molds. There were coins, jewels and skeletons. I found a deal at a garage sale a few years ago. They were all brand new unused. I believe they were from a cake store that had closed. Everyone had some of this candy!