I made this card for a friend of mine that is battling cancer and going through treatments right now. She has been a good listener to me when I have needed a friend to help me through the some rough patches. Sometimes all we need is someone to listen and hold out their hand in friendship through the tough times. I hope this card brightens her day and lets her know she cared for and thought of. How better to brighten her day then to give her a card with lots of glitter!!!


I used the following Cricut cartridges:
Flower Shoppe

- heart petaled flower,

cut at 2 inches
Stand and Salute

- ribbon ,

cut at 5 1/2 inches
Easter 2010

- Doily,

cut at 2 1/2 inches
ZooBalloo

- hearts,

cut at 1, 3/4, and 1/2 inches
(some had parts hid with the Gypsy to make solid hearts)
Imagine More Cards for all the printed paper
I then used lace, rhinestones, ink, pearls and lots of glitter!!!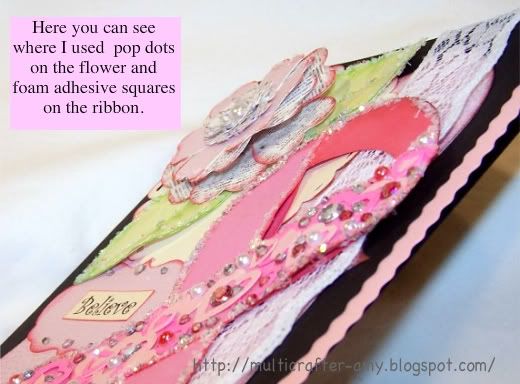 I think I am going to fall in love with this Flower Shoppe Cartridge! Look at the flower. It is the first one I have made. My husband surprised me with this cartridge.