This is my favorite of my three entries. I used seven cartridges to do this page. I know that's a lot but it's one way to justify owning them. lol It was the first one I did and I took the most time making it. I also produced a lot of wasted paper trying to get it right. I tried to use cartridges that don't normally get associated with a birthday. I hated to send this one off knowing I would not get it back but I didn't have a chance at winning if I didn't. I call this one the :
Over The Hill, 40th Birthday Page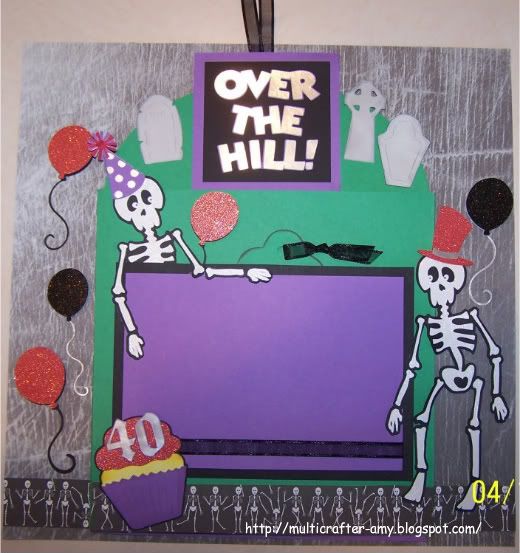 I just love my Happy Hauntings cartridge. These skeletons were just right for the birthday theme. They looked ready to party. Also I had to have two of them. What's a party without two. I flipped one of them on my gypsy so he would look different and added a hat from Celebrations. Then I cut the legs off the one behind the mat. I also cut his one arm to better frame the mat. I wanted to do the dreaded 40th birthday with a dark but a happy party feel to it. I think I achieved what I was going for. The top is suppose to resemble a hill in a grave yard (over the hill). I used white glitter paper for the Skeletons. I did feel like using a lot of of glitter and metallic paper on all of my entries. I was just in the mood to see everything sparkle. Plus glitter and metallic paper added just the right pop to the page against a dark grey background. I popped all the balloons up with foam dots. I used black and red glitter paper for all the balloons. The Skeleton to the right is popped up to the level of the slider pocket with glue dots and foam squares. He isn't going anywhere! Don't you just love his red glitter top hat.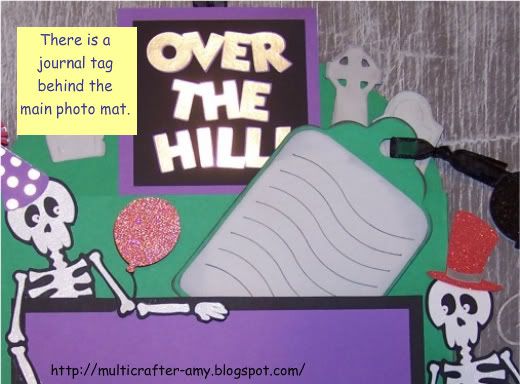 A proper scrapbook page must have space to journal so I tucked a journal tag behind the front mat.

Now here is the surprise to my page. It has a slider pocket! It is a lot like a double slider card but on a bigger scale and designed to fit on a scrapbook page. You use a strip of plastic cut from a plastic bag and attach the tags to it so that they slider in and out of the pocket. This allow you to add more pictures, accents and journaling.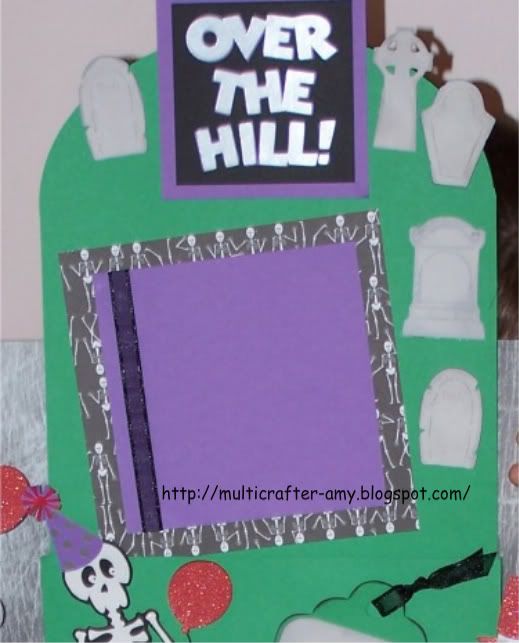 On the top tag, The hill gets bigger and shows a spot for another picture and more grave stones. I took gravestones from two different cartridges, October 31st and Paper Doll Dress Up. I used the Gypsy's hide contour so I could make the stones from October 31st have two layers.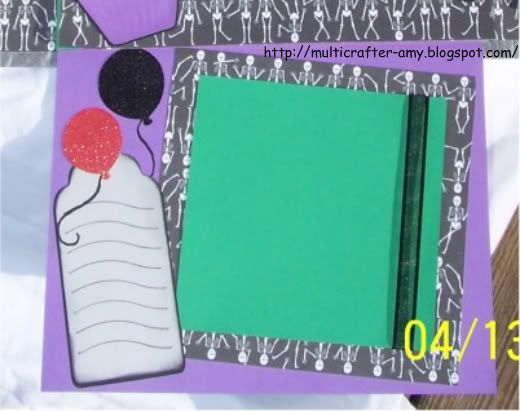 I drew the lines to the balloons on the bottom layers so they wouldn't get snagged when you shove the tag back in. All the stuff on the tags needed to be glued down very well so they would not get caught. I will need to remake this one. It was to neat not to. Well wish me luck! I think this is my best chance at winning the contest. Please leave me some comments below. I plan to add the size of the cuts to all my post later they are all stored in my Gypsy in a file.
Cartridges used
Happy Hauntings- Skeletons,
October 31st Seasonal - Grave stones
Celebrations – Balloons, cupcake
Plantin Schoolbook- tags and slider tags (welded an oval and Square)
Blackletter- 40 ( on cupcake )
Mickey Font- Title cut
Paper doll Dress Up- Grave Stones
Paper Used
Black and Grey base paper is from a G.D.C. studios Zen Garden
Metallic Silver

White, Black, and Red glitter Cardstock
Purple, Green, Gray, Yellow, and Black
Skeleton paper - me and my BIG ideas
Ribbon from American Crafts