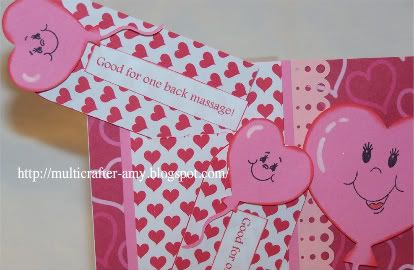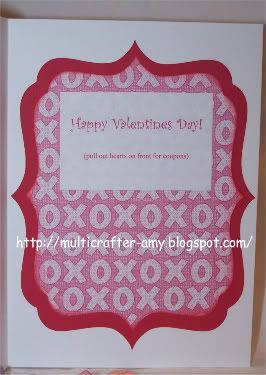 This is the first time I have entered a Peachy Keen Contest. I hope you all like this card. Here were the rules for this contest:
Create a card or layout based on the SKETCH provided
TWIST
Use a monochromatic color scheme
What exactly is monochromatic? Using tints and shades of the same color. (i.e. if you choose "red", you must use red, pink, light pink, medium pink, etc.) Black and white will also be allowed! C'mon, it will be fun and SUCH a challenge!
Design must be new
MUST follow sketch w/ TWIST to be eligible for prize
Link to Mr. Linky

before

February 7th
As with all of our sketch challenges, the basic layout should be there, but feel free to flip elements & get creative!
Here is the recipe for my card
The card size is 5" wide and 7" tall
All the printed paper is from The Paper Studio.
-Pink Diagonal Hearts
-Hugs & Kisses
-Tiny Red hearts
The balloons are from Create A Critter. I cut the big one at 3 1/2 inches and the three little ones at 2 inches. I them attached them with foam dots so they would stand out on the page and give the tags something to rest on. I inked all the balloon edges with a red ink pad.
The three tags are from Tags bags boxes and more at 3 inches . I used the seventh one in the first row.
Inside the card I cut the Accent blackout/(birthday Girl) twice from the cartridge Storybook. Once at 4.80 and once at 4.30 on my gypsy.
I used a Martha Stewart scallop 3 dot punch for the trim piece down the middle.
I printed all the sentiments for my card from my computer.
Everything I inked on the card was done with a red ink pad. I used a red glitter pen for the balloons tongue.
The Peachy Keen Stamps I used were - PK-506 Too Much Fun Faces(1/2")for the little balloons, and PK-574 Basic paper Dolls Faces for the big Balloon.
The fun thing about this card is that it has hidden coupons for you valentine. I show a sample of what your coupon can say. The rest are between me and my Valentine. I can't tell you all my secrets.

lol

So just use your imaginations and find the right coupon for your sweetheart. Also if you like my card please follow my blog I plan to add three new card designs soon. Wish me luck in the contest! Also I love comments!