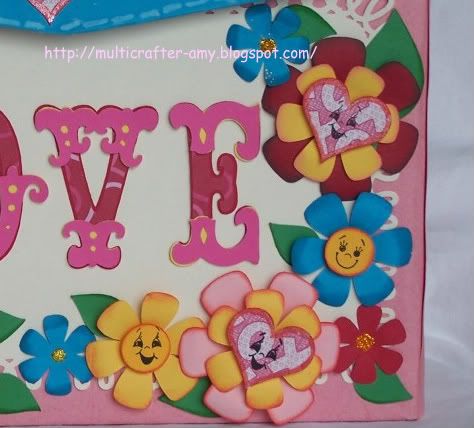 This is a Cheezit box and a scrap piece of chipboard I had. I save a ton of cereal boxes and other chipboard items just to alter.
I tore the box apart and covered it with pink paper and the lid was done with that wonderful blue paper. Then I put the box back together with the opening on the side.
Then cut a cream color paper 8 1/2 inches wide and 5 inches tall. I used the Martha Stewart loop punch all around this cream paper to create a doily like look.
I then cut the Word LOVE from the Storybook Cricut Cartridge. It was cut at 2 inches. There was four different layers to these letters. I love this cartridge. The letters are so fancy.

I cut the flowers, leaves, hearts and circles from the Platin Schoolbook Cricut cartridge.
The big flowers with hearts were cut at 2 inches and the inner layer flower was cut at 1 1/2 inches.
H
earts for the faces were cut at 1 inch.
The smaller flowers with circle faces were cut at 1 1/2 inches.
The circles were cut at.60 inches.
The other flowers were 1".
Then I just used stickles for the center of the rest of the 1 inch flowers.
The leaves were cut at 1 and 1 1/2 inches.
I used peachy keens PK- 506 Too Much Fun Faces 1/2" face stamps for the centers of the flowers.
3 pieces of double sided stick velcro is used to keep it shut.
I plan to keep future Valentines day cards from my husband in here.



Rules:


THE CHALLENGE
Card Storage
Create an altered container using Peachy Keen Stamps faces to store Valentines or cards you receive throughout the year. Our Design Team used mini-mailboxes from the One Spot at Target, but feel free to spruce up any container you might have around the house!
Design must be new
Project must include Peachy Keen Faces
Link to Mr. Linky

before

February 17th