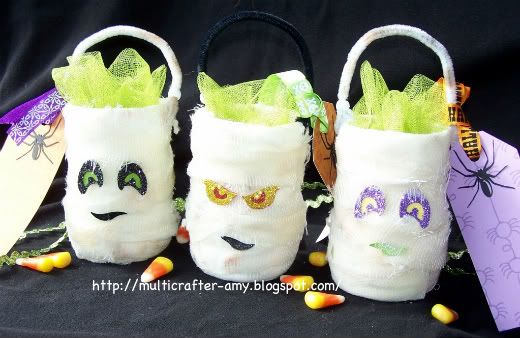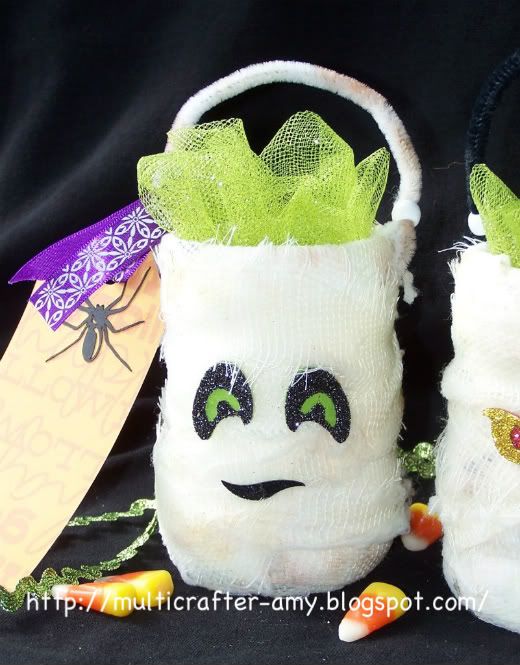 Here is a picture of the plastic water bottle cut off, and the next step where I covered the bottle with cotton balls. I just used glue to adhere the cotton.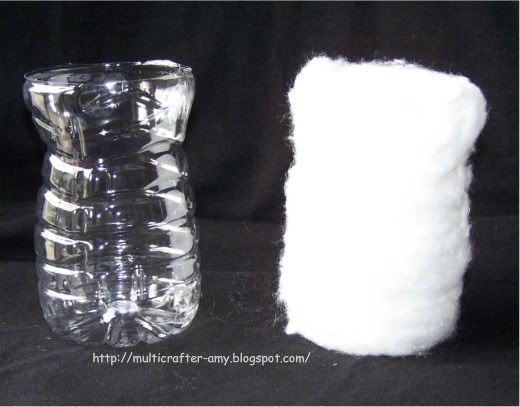 I entered these for the Cricut Chrip but they didn't get picked so I am gonna go ahead and post them now. I think they are super cute!


Materials used:
water bottle, cotton balls,
1 roll of 4 in. x 4.1 yard gauze, mushroom color alcohol ink, plastic sandwich bag, pipe cleaners, grommets, Black, purple, black and red Martha Stewart glitter.
Black, purple, red and yellow cardstock. Black and green glitter cardstock.
I used two printed sheets of Halloween paper and ribbon from Studio G.
Cartridges used:
October 31st and Plantin Schoolbook
First get an empty water bottle and cut in two pieces a little above the middle of the bottle. Discard the top of the bottle. Get your cotton balls and unroll them. Take some glue and wrap them around the whole outside of your bottle. Then get a plastic sandwich bag, put a little water in it and about three drops of the alcohol ink. Take your gauze and cut about 12 inches at a time and then cut it into three long strips. I wanted it to look old. Put your gauze inside the bag then ring it out. Let it dry. Wrap the gauze around the bottle. Use glue to secure the start and end of the gauze. This tints the gauze to make it look dirty.

Cut the eyes and spiders out from the October 31st cartridge at 1 1/2 inches. I used the skinny eyes for the mouths of the mummies. I also made layers for the eyes using the hide contour button on my Gypsy. I started with just using glitter paper but decided that I needed some Martha Stewart Glitter to really make the eyes shine.
I cut the tag out from Plantin schoolbook at 2".

I punched a hole on each side and a grommet with my Crop A Dile. I then threaded in a pipe cleaner with a two beads to cover up the rough part of the handle. I also inked the white pipe cleaners with some of the alcohol ink from a damp paper towel. You need to use a damp paper towel to dilute the ink. I also dabbed some on the gauze with the paper towel. I then glued the spiders to the tags and tied them on with the ribbon.
I hope you all enjoy these. -Amy