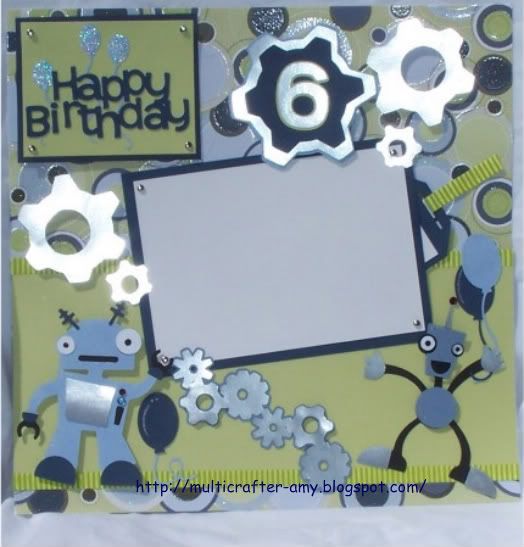 I have been wanting to use my
Robotz
cartridge that I just had to have. I might use this them for middle son's 6
th
birthday later this year. I just love how these little robots turned out. My boys were so interested in this page. They wanted the extra robots that I made. So why not. They then made their own projects while I worked on the challenge. I used a lot of Metallic Paper on this layout. The paper I used as the base was so busy. It was specialty paper. The picture does it no justice. It had metallic shine to it. I toned it down by using a lot of solid paper. The robots had to have some
bling
for the antenna and the buttons. See I may have boys but there is always a way to add sparkle. The robots had to have balloons for the birthday party theme. I also used silver little brads. I place the one robot to look like he was turning the brad. I also used foam squares to pop him up on the page. The other robot just looks like he is having a blast don't he? I cut double of his main body parts (blue parts) and foam squared them to add dimension to his body. I also used foam squares for the title, gears and layered gear with the number six. The light green base paper is trimmed with some self adhesive ribbon. I also used that ribbon on the journal tag. I know these photos are not the best but I was in a hurry to get this shipped out for the contest in time. I am also in the process of making my own light box to be able to take brighter pictures.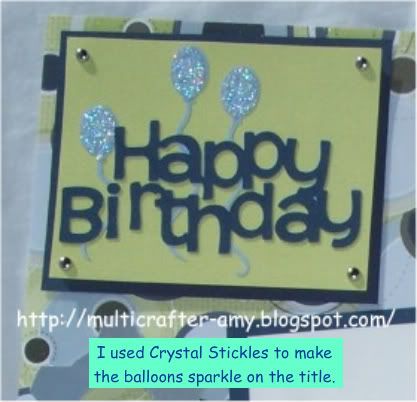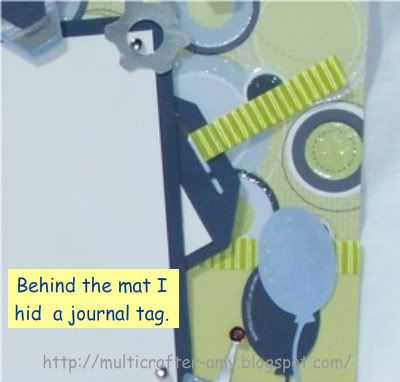 Cartridge used
Robotz – Robots, number
Birthday Cakes- - Gears, Title and Balloons
Tags bags boxes and more – tag
Paper used
Baby boy circles –Cloud nine designs- Fiskars
Metallic Silver
Shades of Blue, green, black and white cardstock
Ribbon from Offray and icicle stickles.
In my next post I will show you my favorite of my entries. I saved the best for last.